Location:
Raj Yoga Meditation Course
13/06/2016 - 01/08/2016 16:00 - 18:00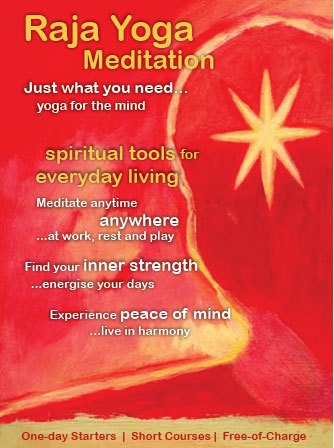 Experience peace and inner strength through Raja Yoga meditation - 'Yoga for the Mind'
Raja Yoga meditation is an open-eyed technique that can be used by anyone, anywhere. Whether you want to learn how to relax, need to be more concentrated and creative or are searching for personal enlightenment, this course is worth exploring.
This is an 8 Week course Available Mon-Fri,10-12 or 4-6pm. Weekends also available (please enquire)
At the end of the introductory course, students will be offered the opportunity to continue their study and go deeper into the philosophy of Raja Yoga meditation.
Individual sessions are also available, English and Hindi Languages.
There is no charge for this course
To enquire about free Meditation Courses in Birmingham:
Call your local Birmingham BK Meditation Centre:
West Bromwich: 0121 553 1160
Selly Oak: 0121 472 4537
Sutton Coldfield: 0121 351 1381

For venue details please call your nearest centre
.
Birmingham

The Meditation Experiment
27/07/2016 19:00 - 20:30
Join us for an evening talk and meditation with Tom Burton.
Please register to attend.
Midlands Arts centre (MAC)
Cannon Hill Park
Birmingham
B12 9QH