Location:
Raj Yoga Meditation Course
07/11/2016 - 19/12/2016 16:00 - 18:00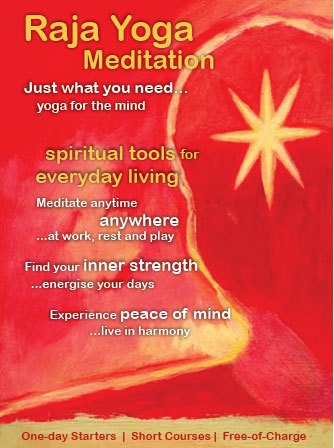 Experience peace and inner strength through Raja Yoga meditation - 'Yoga for the Mind'
Raja Yoga meditation is an open-eyed technique that can be used by anyone, anywhere. Whether you want to learn how to relax, need to be more concentrated and creative or are searching for personal enlightenment, this course is worth exploring.
This is an 8 Week course Available Mon-Fri,10-12 or 4-6pm. Weekends also available (please enquire)
At the end of the introductory course, students will be offered the opportunity to continue their study and go deeper into the philosophy of Raja Yoga meditation.
Individual sessions are also available, English and Hindi Languages.
There is no charge for this course
To enquire about free Meditation Courses in Birmingham:
Call your local Birmingham BK Meditation Centre:
West Bromwich: 0121 553 1160
Selly Oak: 0121 472 4537
Sutton Coldfield: 0121 351 1381

For venue details please call your nearest centre
.
Birmingham

World Meditation Hour
18/12/2016 18:30 - 19:30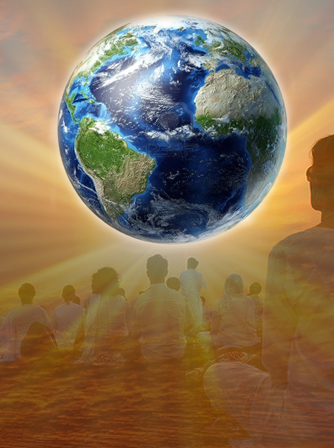 An opportunity to join more than half a million people in over 100 countries who come together to give the gift of good wishes and positive thoughts to the world.
Our outer world is a reflection of what lies within our collective inner worlds. By directing our thoughts in specific, positive ways, we have the potential to guide the world towards becoming a more loving place.
Whether or not you know how to meditate, you are invited to join us on the third Sunday of each month at 6:30 pm and spend 60 minutes of your time radiating peace, love and care to our world. Music and meditation commentaries are played to enhance the experience and guide your thoughts.
Call your local Birmingham BK Meditation Centre:
West Bromwich: 0121 553 1160
Selly Oak: 0121 472 4537
Sutton Coldfield: 0121 351 1381

For venue details please call your nearest centre
.
Birmingham